The Early Years Of Marlton Hills

                 by Guy Thompson

                        Page 2

"I'm going to put a stop to this!!!

  The summer of 1959 brought about a realization to the residents of Marlton Hills, that even in their sleepy development they were not immune to crime. On Saturday June 27 1959 the residents were shocked by a crime that would hit the front page of the Courier Post on Monday, and change the lives of at least two families forever.

.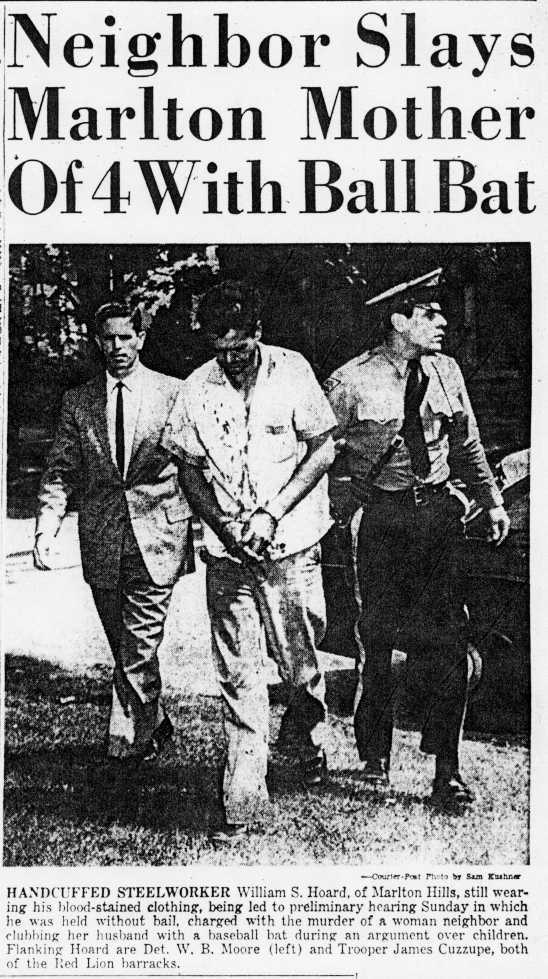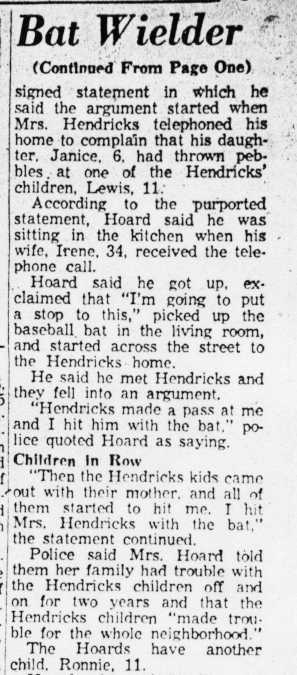 It was Saturday around 6PM on Baker Blvd when the 36 year old steelworkers wife received the phone call. The woman neighbor was calling to say that his 6 year old daughter was throwing stones at her 11 year old son. He later told the police that he informed his wife "I'm going to put a stop to this" and promptly headed across the street with the baseball bat.  

   When he arrived he was confronted by the woman's husband and an argument ensued. The steelworker told police, that the husband took a swing at him so he hit him with the bat. The woman and her children came to his aid, and the steelworker turned his frustration on her.

   Upon hearing the commotion, one neighbor arrived to view the incident, and one sent his 17 year old son as he called the state police at the Red Lion barracks. (In 1959 there was only reserve police in Marlton) The 17 year old neighbor was an Eagle Scout, and was able to render first aid on the woman until the arrival of the Marlton First Aid Squad. She was taken to Burlington Memorial Hospital in Mount Holly, where she died two hours later of a compound fracture of the skull.

   Her husband who was injured in the fight, was admitted for scalp and leg cuts. The steelworker was taken to the hospital for a cut forehead, put in the county prison in Mt. Holly, and charged with murder and atrocious assault and battery.